Meal kit delivery services have been all the rage lately. It started with Blue Apron and now it seems like everywhere you turn, someone is talking about a new company that offers it.
As newlyweds, my husband and I are always looking for fun new activities to do together. And as Weight Watchers users, we're always looking for healthy new things to eat. We've really been trying to cook more at home for both dieting and finance purposes, which can definitely be a challenge. I'm not much of a cook and I hate grocery shopping, plus really don't do well being around all of the temptations in the store. My husband is definitely more of the house chef, but he stays busy, so finding recipes, grocery shopping, and preparing the food just isn't always that doable. Not to mention how picky I am. We've basically found a few wight loss-friendly recipes we like and just stick to those, so we can really easily find ourselves in a food rut.
So when I got a coupon in the mail for HelloFresh, I decided to check it out.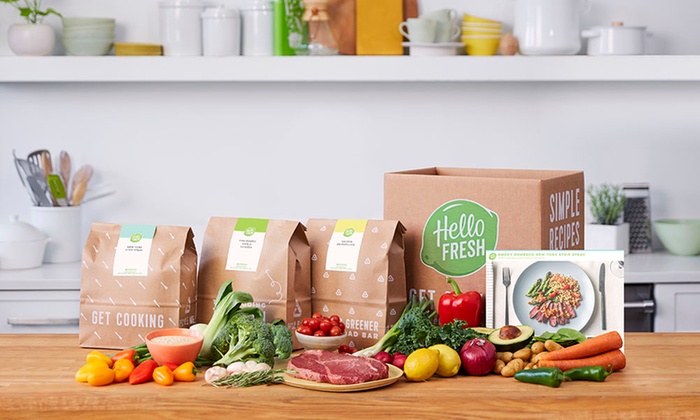 The meal delivery service allows you to pick a plan depending on your dietary preferences, schedule and household size. They deliver your HelloFresh box to your doorstep at the day of your choosing (7 days/week), free of charge. You are always in control, as you can pause, modify or cancel your subscription anytime.
You can choose from the Classic Menu, Veggie Menu, or Family Menu. Each week, they feature a different selection of various meals for you to choose from. You select if you need meals for two or four people as well as the number of meals you want each week, ranging from two to four. The meals feature fresh ingredients for a range of dietary options, so whether you're trying to eat low-cal or please your picky kids, you should be able to find some selections that meet your needs. The packages come with most everything you need, minus a few basics, like butter, salt, pepper, etc.
Like I said earlier, I'm a pretty picky eater. I'm not usually very adventurous with food, but I was definitely able to find some options that sounded appealing to me. My husband, on the other hand, will eat most anything. I selected Meatloaf Balsamico, Presto Pesto Panko Chicken, and Creamy Lemon Salmon.
I placed my order on Wednesday with a delivery date of the following Monday. I had to make my menu selections by the Thursday before. I received a shipping notification on Sunday evening and the box arrived on my doorstep by early afternoon on Monday.
When I opened the box, it will filled with three bags that were labeled with each meal name. Below them were two ice packs surrounding the meats. It also included sheets with an ingredient list, step by step instructions, photos of the meals, and nutritional information.
I immediately refrigerated the meats and put the bags in the cabinet. We weren't going to make our first meal until the next day because my husband was working late that day. I learned later that I should have actually opened the bags. I assumed that because they were separate from the ice packs that they didn't have items in them that needed to be refrigerated. I was wrong. Definitely make sure you check for items such as eggs, cheese, sour cream, etc. Fortunately, most everything was still fine by the time we discovered this, but it could have ended pretty tragically
Now for the fun part: the actual food! I'll show you each meal, before, during, and after and give you the run-down on how each experience went.
1. Meatloaf Balsamico
The Mealtloaf Balsamico definitely took longer than the recipe said it would take. We even worked together on this one and it just really took a long time, between all of the steps and the baking time. Overall, it wasn't too difficult, but it was pretty involved.
Believe it or not, I had never had meatloaf before. I had been wanting to try it for a while, so this was a great opportunity. I thought it was absolutely delicious and my husband actually said it was the best meatloaf he'd ever had.
The green beans came out a little crispier than we would've liked, but I was actually pleasantly surprised by them. I'm particular about how my veggies are cooked, but I was impressed with how much I liked these. The almonds definitely added to them too.
The sweet potatoes were okay. We both agreed they could've stood to be sweeter. Admittedly though, we both prefer our sweet potatoes to be pretty sweet. Someone who is a big sweet potato fan would probably love these as is.
The only downside to this meal was the Weight Watchers point value. It really added up quick. Someone who doesn't have many daily points could easily blow their entire day's points on this one meal alone. Calorie-wise though, it's really not that bad. I still actually had lost weight the next day, despite dipping into my weekly points.
Overall, we really loved this meal. It was yummy and very filling. Even though it was pretty time consuming, it was definitely worth it!
2. Presto Pesto Panko Chicken
The Pesto Panko Chicken took about the amount of time it said it did, unlike the meatloaf. It was pretty straight forward and by far the easiest to prepare. In fact, it was really the only one we felt confident we wouldn't screw up.
Neither of us had much experience with pesto before this, so we weren't really sure what to expect. Our expectations were low, but we were actually really impressed the pesto/cheese/panko breading on the chicken. It was delicious!
The potatoes were also really good. We were impressed with the quantity of them and they tasted great.
The salad was the part we both agreed was less than thrilling. Since it was basically just greens and lemon juice, it wasn't really our taste, but I know some people would enjoy it. If you're typically a healthy eater, this would probably be a pretty normal salad for you. Even though we're trying to eat healthier, we're not quite to the point where we enjoy lemon, in lieu of traditional dressings.
The point value wasn't too terribly bad for how much food you got and what you were getting. It was mostly the potatoes that added up, but they were worth it to us.
Overall, this was a pretty darn good meal! Even though the salad wasn't our favorite, we still thoroughly enjoyed this meal and were satisfied for hours after eating it.
3. Creamy Lemon Salmon
This one was the scariest to make. Neither of us had ever made salmon before, so it was a little intimidating. Nevertheless, everything went pretty smoothly and it took about the amount of time it said it would take to prepare — maybe just a little bit longer.
Neither of us are tomato fans, so we chose to leave that completely out. I'm also not a fan of onions, so we left that out of mine too. We both chose to forego the sour cream. I don't like it and he didn't think it was worth the extra Weight Watchers points, but he did agree it seemed like a neat idea to balance out the lemon.
We both agreed the salmon tasted great. Despite worrying it wouldn't come out well or fearing it wouldn't cook through completely, it tasted and great and looked perfect in the middle. Even though it looked a bit charred, the seasoning was absolutely delicious!
I had never had couscous before, so I was a little concerned I might not like it, but it was really good! I'm a huge rice lover, so this was a great alternative and didn't taste that much different.
This meal had the lowest point value, especially since we left the sour cream off. It wasn't quite as filling as the other two meals, but it left us feeling pretty satisfied — especially for so few points!
Overall, this meal was a surprising winner. Even with leaving some things off, both aspects of it were really good and we thoroughly enjoyed it.
So what are my final thoughts?
All of the meals were wonderful. Even for a picky eater, they all knocked it out of the park. Everything tasted great. The ingredients were all great quality and the convenience of delivery and easy-to-follow recipes made the cooking experience much simpler. It was still a time investment to prepare the meals, but we knew that going into it and we actually enjoyed preparing the meals together. We made it into a fun activity for the two of us. Plus, it opened up some new options for us, allowing us to try some new things and pick up new cooking techniques and ideas.
As for the cost, without the coupon, our plan of three weekly meals for two people, it would cost about $60/week to continue with the service. While this sounds like a lot, it really isn't that much when you sit down and look at your weekly grocery expenses — especially when you consider the quality of these ingredients. Plus, you receive what you need, instead of having to buy a large quantity of something you only need a small amount of for something you only make once in a blue moon and it expires before you even need it again. When you think about it, you would spend the same amount for Chipotle for two people three times a week too, and even more if you ate out at a sit-down restaurant.
Ultimately, the price is pretty reasonable for what you get, but I'm not going to say this is something we will do every week, since we have a tight budget right now. Fortunately, you can skip weeks, so we can just choose to do it once or twice a month.
Would I recommend giving it a try? 100%! With our coupon, we spent $20 for three meals for two people. It was a GREAT deal and I would highly recommend at least giving it a try for a week! If you don't like it, you can always cancel. But again, coming from a picky eater, I think you will be glad you tried it. From there, you can decide if you want to commit to it at regular pricing, but at just $20for the first week, you really don't have anything to lose.
Happy Cooking!